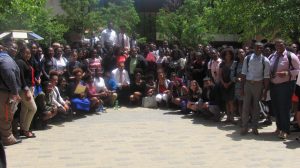 UMBC has been awarded a continuation of its two regular Upward Bound grants (known collectively as the UMBC Classic Upward Bound Program) from the US Department of Education. Collectively, the grant award totals $3.25M over five years to serve students in Baltimore City Public Schools (Patterson High School and Coppin Academy) and Baltimore County Public Schools (Chesapeake, Kenwood, Overlea and Parkville High Schools). The new grant cycle begins September 1, 2017.
The Classic Upward Bound program was first funded at UMBC in 1989 to serve Baltimore County Public Schools.  The program added a second grant Baltimore City was first funded in 2007.
Upward Bound provides academic resources to students who are low-income and/or the first in their family to go to college.  The program consists of an academic year program which brings participants to UMBC on 2-3 Saturdays per month and a summer component during which participants live in residence halls at UMBC and take enrichment classes geared toward preparing them for the next academic year.  Students participate in college tours and visits, and cultural activities in addition to the academic classes and counseling.
The goal of Upward Bound is to "increase the rate at which participants complete secondary education and enroll in and graduate from institutions of postsecondary education".  Alumni of the program have stated:
"Upward Bound has made me understand the full experience of going to college. From staying in the dorms to demanding class work load, I adapted to college better."; and
"I'm really indebted to the program because they opened opportunities for me and other marginalized/underrepresented students wouldn't necessarily have."
Classic Upward Bound is one of a set of programs housed at UMBC and funded by the US Department of Education.  In addition to Classic, the Office of Academic Opportunity Programs also houses the Upward Bound Math/Science Program, the Educational Talent Search Program, and the Ronald E. McNair Postbaccalaureate Achievement Program.